Wichita Business Hall of Fame Class of 2023 Laureates Announced
Author: Ashley Charest
Entrepreneurship
Published: Tuesday, 01 Nov 2022
---
Sharing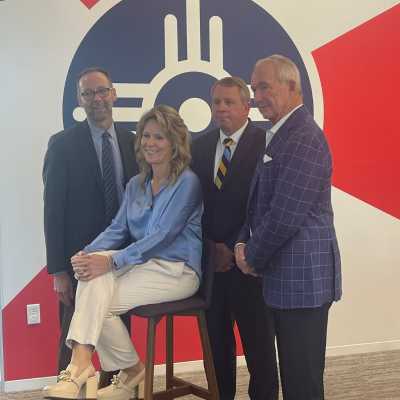 Image caption: Wichita Business Hall of Fame Class of 2023 Laureates
The 28th annual Junior Achievement of Kansas Wichita Business Hall of Fame will take place on Wednesday, March 1, 2023. This event annually honors members of the Wichita business community who have shown an ability to be successful not only in business, but in their commitment to the local community and state as a whole.
The Class of 2023 includes: Jill Hattan, Don Hattan Dealerships and Pink Saloon boutique; Todd Lair, Leading Technology Composites, Inc. (LTC); Larry D. Fleming,The LDF Companies; and Ron Draper, Textron Aviation.
The evening will also include recognition of the Fran Jabara Scholarship recipient, the Othal Vrana Volunteer of the Year award and the Velma Wallace Memorial Recognition award.
On the day of the induction, the media is invited to attend for an opportunity to speak with the laureates about their recognition beginning at 4:30pm. The event will continue with a VIP Reception at 5:00pm, Cocktail Hour at 5:30pm and the Tribute Dinner beginning at 6:30pm.
Please coordinate all media arrangements in advance with Marci Werne, JA Wichita District Director, at 316-253-6005 or marci@kansasja.org.
Jill Hattan
Jill Hattan is the Chief Executive Officer of Don Hattan Dealerships and Pink Saloon boutique. As a third generation car dealership owner, Jill stewards the responsibility of honoring the family legacy while also bringing her grandfather's brand into the 21st Century. Her contribution is centered around challenging the status quo and providing opportunities—for her family, employees, and the greater Wichita community.
In a city teeming with cars branded "Don Hattan," no Wichitan would believe that Jill never dreamed of taking over the family dealership. Instead, she pursued her Bachelor's of Art in English Literature from the University of Kansas, and planned to open a clothing and homewares boutique in Denver. When she returned home to take her first MBA business class, Jill realized working at the dealership provided a more valuable real world education.
Gaining more knowledge and experience in business drew her in, but it was the people who convinced her to stay. She saw their passion for the industry, their commitment to learning and growing, and their loyalty to Don Hattan Dealerships as an employer investing in their professional development. As a woman in the car industry, Jill knew her unique perspective and approach would make a tangible difference in the lives of employees and in the community.
Jill understood the car industry's negative reputation from the often stressful car buying experience and wanted to create meaningful change. She asked herself, "What would I want if I were buying a car?" and then trained her sales and service teams to offer an experience that embodied the Don Hattan Dealership motto, "Shop us last, you'll love us!" Jill also implemented Ladies' Day in 2010, with a dedicated day— Tuesdays—where women can feel more welcome in the dealerships, enjoying manicures and massages while getting their cars serviced. As the world adopts a fast-paced, impersonal, and transactional type of sales relationship, Jill prioritizes building and maintaining customer relationships through personalized, honest shopping experiences in welcoming atmospheres.
The values she leads in business mirror those in her family life. A favorite saying amongst her husband Ben Thomas and their children (Elliot 18, Callie 20, Morgan 8, Riley 8) is, "If it was easy, everyone would do it!" This is what they remind one another of as they take on new business ventures. Together, Jill and Ben hope to instill the same knowledge in their employees in their children as well. Luckily, the lessons they have learned over the years in business transfer to every aspect of their lives, beyond just professionally. Jill and Ben aim to teach their kids the importance of leadership and challenging the status quo as they model this for them in their daily lives.
As word spreads about new dealership locations and businesses, what many don't see is Jill's true purpose behind these expansions: more opportunities for her employees. She strives to help her teams grow by giving them opportunities for upwards growth and to achieve their goals. Whether it be in the car industry, fashion industry, or however else she can use her experience and connections, Jill is dedicated to helping her people get where they want to be. This is truly what gives Jill satisfaction and joy in her life.
Todd Lair
Todd Lair is the Founder of Leading Technology Composites, Inc. (LTC) and has served as its President since its inception in 1993. For the past 29 years, Todd has guided LTC from a start-up to a leading Defense and Aerospace firm with 421,000 square feet of manufacturing capacity and 441 employees. Todd has a Bachelor's degree in Business from Wichita State University. He holds several patents in the composites field. He is a member of the Young Presidents Organization and has served on the Board of Trustee's for Wichita Collegiate School, and the local Boys and Girls Club board. He started the Lair Foundation in 2008, a non-profit dedicated to serving our nation's veterans and many Wichita community charitable organizations. LTC and the Foundation proudly started the Wichita State 9/11 Veteran Business and Engineering Scholarship. A lifelong resident of Wichita, Todd is married to Julie and together they have 4 kids, Sam, Sydney, Sallie and Shelby.
Larry Fleming
Larry D. Fleming is the owner and Chairman of The LDF Companies, including LDF Support Group, Inc. a management company responsible for the executive management of Fleming's privately held entities. The combined companies employ over 400 people in Kansas and Oklahoma.
From 1976 to 2017 Larry was a Wendy's franchisee. Larry opened the first Wendy's in Wichita, which was the 200th Wendy's in the nation, and went on to open 43 additional locations in Kansas, Oklahoma and Texas.
Originally from Tulsa, Oklahoma, Larry graduated from Nathan Hale High School in 1963 where he has been inducted into the Nathan Hale High School Hall of Fame. Mr. Fleming received his bachelor of Science degree in Accounting and Business Administration from Northeastern State University in Tahlequah, Oklahoma. He was inducted into the University's Outstanding Alumni Hall of Fame in 1995. He is also a graduate of the OPM program at Harvard University.
Larry has been inducted into the Wendy's International Hall of Fame as well as the Kanas Restaurant Hall of Fame. He has also been awarded the President's Award multiple times from the Molson Coors Company.
Larry has served on the Board of Directors of Learjet, Kansas State Bank and Trust, Sheplers Inc. and Wesley Medical Center. Larry was appointed by former President Bush to the National Advisory Council for the Small Business Administration, where he served on their Executive Committee. He was appointed by former Governor Hayden to serve on the Board of Trustees of the Kansas Public Employees Retirement System (KPERS). In addition, he was appointed by former Governor Finney to serve on the Adoption Reform Task Force for the State of Kansas. He has served as Chairman of the Wichita Area Chamber of Commerce as well as Heartspring, formerly known as the Institute of Logopedics.
Larry has three adult children and primarily splits his time between Wichita, Kansas; Tulsa, Oklahoma and Carlsbad, California.
Ron Draper
Ron Draper is the president and chief executive officer, of Textron Aviation, encompassing the Cessna and Beechcraft brands. Ron joined Textron in 1999 and has held various leadership roles in Textron business units through the years, including 13 years at Textron Aviation. His previous roles at Textron Aviation include senior vice president of Integrated Supply Chain (ISC); director of Production Control and Logistics; and director of Supply Chain Management. Ron also served as vice president of Integrated Supply Chain and director of Strategic Sourcing for Textron Specialized Vehicles; and director of Procurement for the V-22 Osprey program at Bell Helicopter.
While serving as senior vice president of Integrated Supply Chain at Textron Aviation, Ron was responsible for overseeing the manufacturing operations for all Beechcraft and Cessna commercial products including the Beechcraft King Air and Cessna Citation lines. Seven different products achieved entry into service under his leadership. Prior to joining Textron, Ron served as a Captain in the United States Army as a UH-60 Blackhawk helicopter pilot and company commander. His overseas assignments included tours in Bosnia, South Korea and Germany. Ron is also a fixed wing multi-engine commercial rated pilot and enjoys flying a broad range of Textron Aviation aircraft.
Most recently, Ron received second in command (SIC) qualification in the 525 series of Citation jets. Ron earned a bachelor's degree in Engineering Management from the United States Military Academy in 1990, and an MBA from Wichita State University in 2001.
An active member of the community, Ron serves on the boards of the Greater Wichita Partnership, General Aviation Manufacturers Association and the National Association of Manufacturers. He is a frequent supporter of many Wichita community charitable causes…including the company's own employee-led Uplift, an organization that assists employees and communities in all the different Textron Aviation facilities' locations.
About Junior Achievement of Kansas
Junior Achievement (JA) of Kansas inspires and prepares young people with the skills they need to succeed in a global economy. Collaborating with the business and educational community, JA of Kansas provides relevant, hands-on experiences that give students knowledge and skills based on the three pillars of financial literacy, work readiness and entrepreneurship. JA of Kansas serves over 28,000 students statewide and over 10,000 in the Wichita area. To learn more about JA of Kansas, visit www.kansasja.org or follow us on Facebook, Twitter, LinkedIn and Instagram.