Lawrence Business Hall of Fame Tribute Dinner Announcement
Author: Ashley Charest
Entrepreneurship
Published: Thursday, 03 Nov 2022
---
Sharing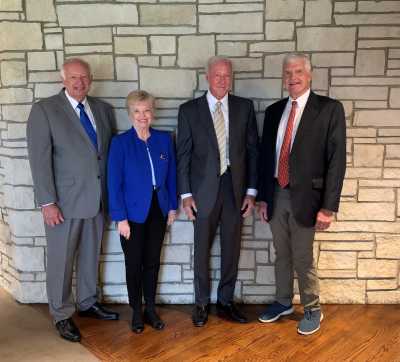 Image caption: Lawrence Business Hall of Fame Laureates 2023
The Lawrence Business Hall of Fame Tribute Dinner celebrating Lawrence business leaders will be held on Wednesday, May 3, 2023, at The Forum at Kansas University's Burge Union. The reception will begin at 5:30 pm and the Tribute Dinner and awards begins at 6:15 pm.
The 2023 class includes: Tom Dobski, McDonald's; Ralph D. Gage, Jr. (Posthumous), Lawrence Journal-World; Gary Sollars, Charlton-Manley Insurance (Retired); Wint Winter, Jr., Stevens & Brand LLP.
The purpose and intent of the Lawrence Business Hall of Fame event is to recognize prominent business leaders who have made extraordinary contributions to Lawrence, earned the respect of the local community, and called attention to the Free Enterprise System and its value to our country and citizens in shaping our local way of life. Individuals inducted into the Hall of Fame have demonstrated business excellence, have vision and are courageous thinkers, innovative and inspiring leaders and community minded. They have worked to lead our community to a better, higher level.
About Junior Achievement
Junior Achievement is proud to address this critical issue by ensuring that every child in America has a fundamental understanding of the free enterprise system by providing economic education programs to students in kindergarten through twelfth grade classrooms. By participating in these types of programs, students are able to develop the desire to stay in school, have a positive attitude toward work and appreciate lifelong learning, and become prepared for a future of success and leadership. Volunteers from local businesses bring JA's real world economic lessons into classrooms, serve as role models, share their working lives, and help students gain a new sense of self-esteem, respect for others and understanding of how to turn challenges into opportunities. During the 2021-22 academic year, Junior Achievement of Kansas will have worked with more than 20,000 children including nearly 4,500 children in the Lawrence area.
Tom Dobski, McDonald's
Tom Dobski was born in Chicago, Illinois and has 2 older brothers, Tony and Bob. He and his brothers all went to DePaul University and Tom graduated in 1972.
Tom was in the grocery business in Chicago with his dad and two brothers. At one time they owned and operated 3 grocery stores on the Northwest side of Chicago. The competitive environment and the shrinking margins in the grocery business caused them to seek out another business.
Tom and Marilyn have 3 children, Michael, Kevin, and Brian and 5 grandchildren, Kendall, Hadley, Easton, Dominic, and Chloe.
Tom's brother Tony decided to become a McDonald's franchisee and purchased his first restaurant in Covington, Tennessee in 1980. Tom and Marilyn applied for a McDonald's franchise in 1981 and were offered their first restaurant in Leavenworth, Kansas in November of 1981, 41 years ago.
Over 41 years, Tom and Marilyn have built or purchased a number of McDonald's restaurants. They currently have 12 restaurants; their son Michael owns 4 restaurants in the Kansas City area and Kevin owns 3 restaurants in Topeka for a total of 19 restaurants.
Tom has worked on numerous McDonald's committees including the Purchasing committee for almost 40 years, the National Operators Advisory Board, the McDonald's Heart of America Executive Board and has Co-Chaired numerous campaigns for Corpus Christi Catholic School to raise money for Capital Campaigns for the School and Church here in Lawrence. Tom has also served on the Lawrence Police Foundation Board. Tom was instrumental in working with the Heartland Community Health Center Board to develop the new Federally Qualified Health Center located at 6th & Michigan that will be celebrating its one-year anniversary in November. Tom is currently Treasurer of the McDonald's National Owner's Association. In May of this year Tom started a fund-raising campaign with the NOA to raise funds for the Polish Ronald McDonald House to benefit the refugees of the Ukraine. $280,000 was donated with $20,000 raised at the Mr. D's Car Wash to benefit these efforts. Tom and Marilyn recently funded the total renovation of the Topeka Ronald McDonald House kitchen named Josephine and Jane's kitchen in honor of our mothers.
Tom and Marilyn have been honored by McDonald's Corporation receiving the Ronald Award and the Golden Arch Award. They also received the Kansas Restaurant and Hospitality Restauranteur of the Year award and in 2018 the Kansas Restaurant Hall of Fame Award.
Ralph D. Gage, Jr., Lawrence Journal-World (Posthumous)
Ralph Dana "Bud" Gage, Jr., 80, a longtime newspaper executive with the Lawrence Journal-World and a member of the Kansas Newspaper Hall of Fame. The Gage family lost Ralph Gage suddenly on Jan. 30, 2022.
Ralph Gage was born Sept. 9, 1941, in Ottawa, Kan. He was a 1959 graduate of Ottawa High School. He and Martha Ann Senter were married in Ottawa on Nov. 23, 1963. Ralph and Martha have two children, Susan and Paul and two grandchildren Samuel and Abigail.
Gage was inducted into Ottawa High School's Wall of Honor in 2006. Ten years later he became a member of the Kansas Newspaper Hall of Fame; he received the Kansas Press Association's "Outstanding Mentor Award" in 2009.
He was a 1964 graduate of the University of Kansas School of Journalism. While at KU he lived in Foster Hall and remained close to the "Fosterites" for many years, enjoying weekly Zoom calls in recent years.
After graduating from KU, Gage worked at the Salina Journal in Salina, Kan., as district editor and Sunday editor, and then moved to the Metro-East Journal in East St. Louis, Ill. He joined the staff at the Lawrence Journal-World in 1969, and during a 43-year career with the Journal-World and its parent company, The World Company, Gage served in multiple roles including managing editor, general manager, chief operating officer and director of special projects. As a reporter, he covered KU and was part of the team that reported on the 1970 burning of the Kansas Union and the civil unrest on campus. He had additional management responsibilities for other company operations, including weekly newspapers, magazines, cable television, internet, software development and a network-affiliate television station. He retired in 2013 and remained on the company's board of directors until 2016, when the company sold its media assets.
"I just enjoyed reporting and writing and meeting people," Gage told the Journal-World in a story about his induction into the Kansas Newspaper Hall of Fame. "When I landed here, I had the opportunity to get into the management side, and then ultimately into corporate management. One thing led to another, and 43 years flew by. Writing and reporting, though, are still the most fun, I think."
During his time in management at the Journal-World, Gage was particularly proud of the efforts to bring together the newsrooms of the newspaper and 6News, a cable news channel previously owned by The World Company. The "converged newsroom" attracted national attention from The New York Times and drew media executives from across the country to tour the operations.
Gage wrote about the World Company's convergence efforts for Nieman Reports (Winter 2006) and presented about those efforts in numerous forums in the U.S. and abroad. The Times, in writing about the company in 2005, called him "a no-nonsense taskmaster…deputized to make sure the company's trains ran on time." Tim O'Brien of The Times, Gage frequently said, might have written his epitaph.
In a Journal-World story upon his retirement, he was lauded for the standard of excellence and reputation for detail he brought to his work. Dolph C. Simons Jr., chairman of The World Company, was quoted as saying Gage had "played a major role in nearly everything good that has happened to the paper."
Gage served on the board of directors of the News-Gazette in Champaign, Ill., until October 2020 and had been a trustee of the William Allen White Foundation. He was a member of the board of directors of Crime Stoppers of Lawrence and Douglas County, serving as secretary, and he and his wife co-chaired the New Generation Society of Lawrence in 2020-2021.
Gage was a graduate of Leadership Kansas (1983) and was active in community, professional and business organizations as well as First Baptist Church, where he twice served as Moderator and co-led fund-raising efforts with Martha. He was a member of the Kansas-Lower Republican River Basin Advisory Committee and served several terms on the Lawrence Chamber of Commerce board of directors. Before they were renamed, he was a board leader of the United Fund in Lawrence and the Boys Club of Lawrence. He had been a board member of Van Go Inc., and a board member of Presbyterian Manors of Mid-America.
He was a lifelong member of the KU Alumni Association, Sigma Delta Chi, and the Kansas Press Association, and he was an avid supporter of Bert Nash Community Mental Health Center, the Lied Center of Kansas, the Kansas Sheriff's Association, Spencer Museum of Art, KU Natural History Museum, Sister Cities-Eutin, Germany program, the Dole Center, and the Williams Fund.
He was a cyclist and a long-time participant in Red Dog's Dog Days. He cherished his age-group (70s) victories in the Dr. Bob's Run, as well as having completed five Matfield Green Metric Centuries (aka "the death ride.")
Gary Sollars, Charlton-Manley Insurance (Retired)
Gary grew up on a family farm near Adrian, Missouri. He benefitted from loving parents and grandparents as well as many aunts, uncles and cousins living in the same area with almost weekly get-togethers. He began helping with farm work in the summer, on a tractor at age 11. He participated in all the team sports in high school and graduated in 1967.
Gary enrolled at Baker University supported by a football scholarship. Football only lasted one year but he really enjoyed life at Baker. He joined Delta Tau Delta Fraternity and met his future wife, Connie. He received his degree in business administration in 1971.
Following graduation Gary joined the Hartford Insurance Group and held underwriting and marketing positions. In 1977 he joined a 14-person independent agency in Lawrence which eventually grew to one of the largest independent agencies in Kansas, Charlton-Manley Insurance. Gary served as President and CEO and focused on client development (also known as sales).
Gary was active in the insurance industry, earning his Charted Property Casualty Underwriter (CPCU) designation and Accredited Advisor in Insurance (AAI) designation. He is past president of the Independent Insurance Agents of Kansas, Past State National Director for Kansas to the Independent Insurance Agents of America and past chairman of the Kansas Insurance Education Foundation. He's the recipient of the IIAK Outstanding Agent Award and Kansas Insurance Association Agent of Merit and received the President's Award from the Independent Insurance Agents of America.
An active community member, Gary has served for 20 years as a member of the Baker University Board of Trustees, Chairman of the Lawrence Chamber of Commerce Board of Directors, President of the Board of Cottonwood Foundation, Chairman of the Lawrence Memorial Hospital Endowment Board, and Chairman of the Bert Nash Endowment Board. He was a founding member of the Board of University National Bank. Gary and Connie co-chaired the 2000-2001 Douglas County United Way Campaign.
Gary and Connie celebrated their 50th wedding anniversary in September. They are blessed with son Drew and his wife Tina and their children Julia and Freddy and daughter Allison and her husband John Thompson and their children Johnny and Lainey, both families close by in the Kansas City area.
Wint Winter, Jr., Stevens & Brand LLP
Wint is a 4th generation resident of Lawrence, Kansas. His wife Mary is a former math and religion teacher at St. John grade school. They have three daughters and eight grandchildren. He graduated from the University of Kansas in 1975, where he was a varsity football letterman and he graduated 4th in his class from KU Law School in 1978.
He has been a partner in the Lawrence law firm of Stevens & Brand since 1978 and was managing partner for three years. His law practice was varied and included business and personal injury litigation, real estate development law, bankruptcy, divorce law and estate planning. He served as Douglas County Counselor from 1998 – 2000.
From 1982 to 1992 Wint served in the Kansas Senate where he was vice-chairman of the Ways & Means Committee and Chairman of the Judiciary Committee. He also was Chairman of the Economic Development Committee for the National Conference of State Legislators. In 1986, he was named by KS Magazine as one of the Top Ten Legislators in Kansas.
While in the Senate, Wint led the effort to enact a criminal sentencing guidelines system, wrote the first law since 1972 which restricted some abortions in Kansas, successfully led the fight against enactment of the death penalty, introduced the "Sexual Predator" Bill and gained a reputation as an advocate for neglected and abused children. In 1990, he received the Annual Leadership Award for Outstanding Contributions to Children from the University of Kansas School of Social Welfare. In 1994 he ran as the favorite in the Republican primary for Kansas Attorney General and lost.
He served as Douglas County Counselor from 1998 – 2000. He was a member of the Kansas State Banking Board from 2005-2011 by appointment of Governor Kathleen Sebelius. Wint currently serves as a Member of the Kansas Board of Regents having been appointed by Governor Laura Kelly in 2021 and confirmed by the Kansas State Senate in 2022.
In 2000, Wint became EVP and General Counsel of Peoples, Inc., the Winter family bank holding company, with 25 branches in Kansas, Colorado, and New Mexico. In 2002, he became President and CEO of Peoples Bank in Kansas and led the merger of two banks in Kansas and one in New Mexico. When Peoples, Inc. was sold on January 1, 2018, it had nearly 40 branches in 11 states with nearly $1Billion in assets and just less than 1,000 employees.
He is involved with many charitable organizations, was a member of the St. John Parish Counsel and has served in roles as diverse as Chairman of the Sexual Abuse Review Board of the Capuchin Franciscan Province of Mid-America and was a member of the Board of Directors of the Kansas Banking Commission. He also served as Chairman of Save Kansas Coalition, Inc., a non-profit political education group that advanced Centrist policies and helped reverse radical tax policies in Kansas.
After selling the family business, Wint has returned to part-time law practice in Lawrence and serves on a number of non-profit Boards.