Lawrence Business Hall of Fame 2022 Laureates Announced
Author: Ashley Charest
Entrepreneurship
Published: Thursday, 07 Oct 2021
---
Sharing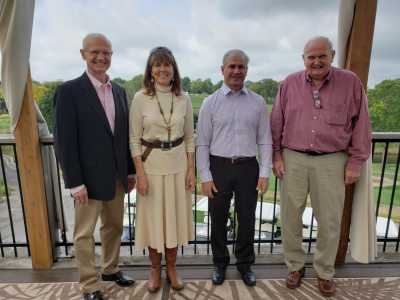 Image caption: 2022 Lawrence Business Hall of Fame Laureates
The 2022 Lawrence Business Hall of Fame Tribute Dinner celebrating Lawrence business leaders is being held on Thursday, February 24, 2022 at the DoubleTree by Hilton (Regency Ballroom). The reception will begin at 5:30 pm and the tribute dinner and awards begins at 6:15 pm.
The 2022 class includes: Marilyn Bittenbender, Heck Land Company; Richard Haig, Westside 66 Inc.; Roger Scott, Scott Temperature; Gary Toebben, The Lawrence Chamber (Past President /CEO).
Marilyn Bittenbender, Heck Land Company
Marilyn began her real estate career in 1988, focusing exclusively on commercial property leases and sales at Stephens Real Estate. By 1998 the commercial department at Stephens had grown to include Marilyn's husband Kelvin Heck and Allison Vance Moore.
In 2001 Marilyn, Kelvin and Allison moved from Stephens to open a Lawrence branch office for Colliers International. Marilyn focused her career on industrial sales and land development. Some of Marilyn's clients include Plastikon, Grandstand Sportswear and Glassware, ProSoCo, Amarr, Big Industrial, LMH, Berry Plastics, VanTrust and BC&R. Her land development projects cover more than 600 acres that are now home to manufacturers, warehouse and distribution centers, and office, retail, and multi-family properties.
Marilyn is a graduate of West Junior High, Lawrence High School, and graduated from KU in 1970. While her children were young Marilyn volunteered at their school as room mother, carnival chair and she was president of the Schwegler PTA. As her children got older she served on the boards of the Spencer Museum of Art, the Lawrence Arts Center, the Lawrence Schools Foundation, and was one of the founding members of the Lawrence Historic Resources Commission.
Marilyn is a graduate of Leadership Lawrence and Leadership Kansas. She served as Drive Chair and President of the Douglas County United Way, Chair of the Lawrence Chamber of Commerce, Chair of the Bert Nash Community Mental Health Center, and many other local boards. At the state level Marilyn was appointed by both Democrat and Republican Governors to serve a total of 9 years on the Kansas Real Estate Commission.
In addition to Marilyn's daughters Laura Bittenbender, who lives in Lawrence, and Kyra Martinez who also lives in Lawrence with her husband Greg, Marilyn is stepmom to Maggie Boroujerdi (Bob), Westport Connecticut; Katie Towsen, Katy Texas; and Gina Suther (JP), Katy Texas, and she is "Yaya" to their 7 grandchildren.
Marilyn continues to be involved in the community during her retirement, and currently serves on the Cottonwood and Peaslee Tech boards, the Kansas Commission on Disabilities Concerns and serves as Chair of the Douglas County Economic Development Corporation. With her retirement from Colliers, she has had her license with her husband's company, Heck Land Co., and while she is not doing active brokerage, she does occasional consulting work for them.
Richard Haig, Westside 66 Inc.
Born in Toronto Canada 1962. One of ten children. Moved several times being the son of a father that worked with de Haviland Aircraft Company a subcontractor to the US Military and United States Air Force. Raised in Valley Center Kansas, Valley Center High School class of 1980.
Following high school, I attended KU studying Aerospace Engineering while beginning my lifetime career at Westside 66. Enjoying the life of working for myself in small business more than a degree at KU I began managing the service station in 1985 becoming the youngest Phillips station operator (22 years of age) in their entire system. I later purchased the business property and have made it my life's work.
Westside 66 has been honored by the Lawrence Community as the "Best in Lawrence" for the last 15 years. That is my ultimate reward as a business owner.
My other passion is aviation. I am a pilot and have served on the Lawrence Aviation Board for many years, the last 10 years as chairman. I also help with the City of Lawrence Youth Aviation Camp and help Leadership Lawrence with their programming by showing their classes the Lawrence community from the air.
Roger Scott, Scott Temperature
Roger Scott is a lifelong, fourth-generation Lawrence resident. He recently retired from Scott Temperature Heating & Air Conditioning, a third generation, family-operated business founded by his father more than 75 years ago and operated today by his daughter.
As an entrepreneur and product of Lawrence's public schools, he has great appreciation for the important role community plays in developing and mentoring young people to help them understand how the world of business works and how they can successfully contribute to the future workforce.
Roger has been an active and hands-on member of Junior Achievement for more than 25 years. He teaches a real-world economics course annually to middle school students, helping them understand personal finance and how to enter the workforce. In addition to teaching, he serves on the Lawrence Board of Junior Achievement as well as the Kansas Board of Junior Achievement of Kansas.
He is a long-time supporter of Lawrence's St. Patrick's Day charity and was most recently it's Grand Marshall for the annual parade. He also is an active supporter of Van Go, the local art-based social service agency.
He is a 50-year member of the Refrigeration Service Engineering Society (RSES), the leading organization for heating, ventilation, air conditioning and cooling (HVAC) professionals. He has taught for RSES both in Lawrence and Topeka.
Roger was an early advocate of the Dwayne Peaslee Technical Training Center when it opened in Lawrence to provide technical training to meet the current and emerging needs of area communities and employers. He continues to teach technical training there.
Roger was a business major at Emporia State where he met his wife of 58 years, Mary Ann Mahon Scott, who taught in the Lawrence school district for many years. They actively supported students at then Central Junior High by sponsoring them in youth community sports and school programs and activities. Roger also was a long-time little league football coach and sponsor of sports teams for their three daughters – Sara Jane Scott, Sherry Scott and Stacey Rinnert. Today they enjoy helping raise their six grandchildren and remaining active in the community.
Gary Toebben, The Lawrence Chamber (Past President/CEO)
Gary Toebben served as President and CEO of the Lawrence Chamber of Commerce for 18 years from 1981 to 1999. During those two decades, Toebben and the Chamber led the charge on dozens of community and economic development initiatives including:
Founding Douglas Country Development Inc. (DCDI), the first public/private economic development partnership between the Chamber, the City of Lawrence, Douglas County and the University of Kansas. DCDI was the developer and marketing arm of the East Hills Business Park and the builder of the first speculative building in the park.
Promoting the construction of the South Lawrence Trafficway and leading the community ballot initiative that secured public support for the project.
Initiating and promoting the "4 for 1" community ballot to pass a one cent sales tax to build a new community recreation center, a new Bert Nash mental health facility, a new county jail and a reduction in property taxes equal to the property tax increase necessary to fund the construction of a second high school.
Leading the successful promotional campaign to build a second high school.
Rallying business and public support for the construction of the new terminal building at the Lawrence Municipal Airport.
Founding Leadership Lawrence with the support of Leadership Kansas alumni from Lawrence.
Lawrence was the second stop in Toebben's 43-year career in the Chamber of Commerce profession. He led the North Platte, NE Chamber for six years before coming to Lawrence. A seven year term at the Northern Kentucky Chamber of Commerce followed Lawrence and in 2006, he was recruited by the Los Angeles Area Chamber of Commerce to head up the largest business organization in the second largest city in the nation. He retired in 2018 after twelve years leading the LA Chamber.
During his 43 year tenure, Toebben was elected and appointed to dozens of state and local leadership positions in the four communities and four states in which he served. In 2003, He was elected as Chair of the Board of Directors of the American Chamber of Commerce Executives.
Toebben grew up on a farm in eastern Nebraska and graduated from the University of Nebraska with a B.S. in Math Education. His first two jobs were as a math teacher in Lincoln and as the Facilities Development Director for the Nebraska Dept. of Economic Development. He holds an Honorary Doctor of Business from Pepperdine University.
Gary and his wife Janice were married in Lawrence. They have four children and nine grandchildren. Janice has a B.A. and an MBA from the University of Kansas and BS in Business from Auburn University at Montgomery. She enjoyed a 30-year career with US Bank in three cities.