Lawrence Area Hiring Program Assistant
Author: Ashley Charest
Work Readiness
Published: Wednesday, 14 Jul 2021
---
Sharing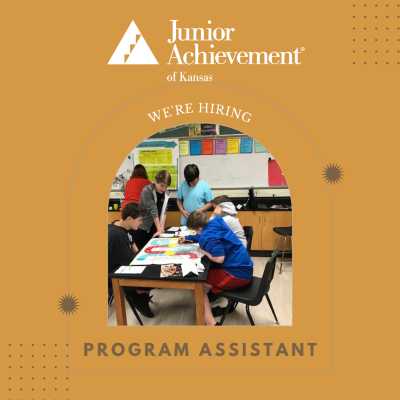 Image caption: Program Assistant We're Hiring
Junior Achievement of Kansas is looking for a part-time Douglas County Program Assistant to help us inspire and prepare young people to succeed in a global economy.
The Program Assistant reports to the Douglas County District Director and will:
Provide part-time administrative support for all special events for the Douglas County District
Cultivate local partnerships with community businesses and organizations to assist with program and financial goals
Coordinate and train volunteers
Maintain records for events and programs
Compose, draft and edit correspondence and other written communication
Required: The right candidate will have at least two years experience with successful fundraising and volunteer coordination, will have the ability to manage multiple priorities, will have strong interpersonal, organizational and planning skills. Must be articulate in oral and written communication. Must be creative and willing to assist with varied responsibilities as needed. Must have advanced computer skills and be proficient with Microsoft Office (Word, Excel, PowerPoint and Publisher) and Microsoft Outlook and be comfortable with learning new computer programs and office technology. Must be self-motivated with the ability to work remotely and manage time efficiently. Must have a valid drivers' license and reliable transportation available during work hours.
Part-time hours will vary significantly throughout the year, depending on the needs of the organization. Hours will coincide with the school year calendar during school hours and must be available to travel to meetings during the day and will total approximately 800 hours per year. Must live in Lawrence Kansas. Must be able to lift up to 20 pounds. Travel within Kansas and occasional weekend and evening hours will be required. Other duties as assigned.
To apply, e-mail resume to debbie@kansasja.org or mail to Junior Achievement of Kansas, ATTN: Debbie Harman, PO Box 1081, Lawrence, Kansas 66044.