Junior Achievement of Kansas to Honor Business Laureates at Annual Wichita Business Hall of Fame
Author: Ashley Charest
Entrepreneurship
Published: Friday, 05 Nov 2021
---
Sharing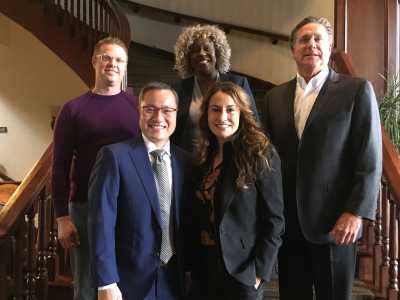 Image caption: 2022 Wichita Business Hall of Fame Laureates
The 27th annual Junior Achievement of Kansas Wichita Business Hall of Fame will take place on Tuesday, March 8, 2022. This event annually honors members of the Wichita business community who have shown an ability to be successful not only in business, but in their commitment to the local community and state as a whole.
The Class of 2022 includes: former Mayor Carl Brewer (posthumously); Drs. Pat and Sylvia Do, Mid-America Orthopedics and Via Christi St. Francis; Junetta Everett, Delta Dental of Kansas (retired); Ben Hutton, Hutton; and Jim Lee, Lee Aerospace.
The evening will also include recognition of the Fran Jabara Scholarship recipient, the Othal Vrana Volunteer of the Year award and the Velma Wallace Memorial Recognition award.
The media is invited to attend for an opportunity to speak with the laureates about their recognition beginning at 4:30pm. The event will continue with a VIP Reception at 5:00pm, Cocktail Hour at 5:30pm and the Tribute Dinner beginning at 6:30pm.
Please coordinate all media arrangements in advance with Marci Werne, JA Wichita District Director, at 316-253-6005 or marci@kansasja.org.
Mayor Carl Brewer
Mayor Carl Brewer was a native Wichitan born on March 8, 1957. He graduated from North High School in 1975 before continuing his education at Friends University, the Kansas Military Academy and finished up his Bachelor of Science degree in criminal justice at Southern University.
Carl was in 11B Infantry School in 1978, completed his Basic Non-Commission Officer Course in 1980, Advanced Non-Commission Officer Course in 1984, Officer Candidate School in 1986 and Infantry Officer Basic in 1988. He was a member of the Kansas Army National Guard for 21 years and retired as Capitan. While in the military, he worked as a Manufacturing Engineer, Project Planner for the KC135 Refueling and on the J-Star and Air Force One Project.
He worked for Cessna as a Manufacture Engineer and then transferred in 1985 to Boeing/Spirit where he served as a 777 Program Manager, 737 Classic Line Manufacturing Manager and New Generation Manager, Lean Manufacturing Manager for 737 New Generation Line, Operations Manager for the design and implementation of 787 Critical Path.
Carl served on the Wichita City Council for two years and was elected Mayor for 2007-2015. He went back to work at Spirit, but retired soon afterwards and ran unsuccessfully for Governor. Although he lost the election, he helped Governor Laura Kelly serving on her transition team and her tax reform committee.
Mayor Brewer was married to Cathy and had two daughters, Cheryl and Carol, and two sons, Jason and Carlo. Carl passed away on June 12, 2020.
Drs. Pat and Sylvia Do
Dr. Pat Do is the Chief Executive Officer of Mid-America Orthopedics, an orthopedic practice he founded in 2000. Mid-America Orthopedics has expanded to many different locations including Leawood, Kansas.
Pat was born in Vietnam and came to the United States during the Vietnam War. He grew up in Costa Mesa, CA and moved to Kansas City to attend the University of Missouri School of Medicine. After finishing his residency, he moved to El Dorado while his wife finished medical school. Both intended to move back to California when Sylvia finished school but they said "Kansas was only to be temporary, but we fell in love with the people."
Sylvia moved from Mexico after graduating from High School and attended San Diego State University where she got her Bachelor of Science in Nursing. She practiced as a nurse in Dallas where she met Pat. She moved to Kansas City to attend KU School of Medicine where she got her MD. After graduating she became faculty at the University of Kansas School of Medicine, teaching medical students and residents in the inpatient setting. She now practices in private practice as a Hospitalist at Via Christi St. Francis.
Both Pat and Sylvia credit their education as the key to success and have focused their giving on mentoring, funding, and helping children.
Pat is a member of the Young President Organization, where he currently serves on the Regional Board. Currently he also serves on the Board of Newman University, Wichita Chamber of Commerce, and the Wichita Police Foundation. He is a past member of the Butler Community College Foundation Board.
Sylvia is a current board member of Wichita Children Home and the Kansas Hispanic Education and Development Foundation, which strives to help Hispanic students obtain an education beyond high school. She is a past member of the Wichita Community Foundation and Wichita Collegiate Board.
Both Pat and Sylvia have established scholarships at Butler Community College and have given to the Butler Foundation Title III grant, as well as scholarships at UMKC and KHEDF.
For Pat and Sylvia, the importance of education was imparted to both of them at an early age. Despite the fact they came from different cultural backgrounds they both credit their families with showing them the importance of pursuing academics and they hope to pay it forward by showing and helping others what education can do.
Pat and Sylvia have 3 children: Isabella is a sophomore at MIT (Massachusetts Institute of Technology), Alexandria a freshman at Baylor University and Peter is a freshman at Wichita Collegiate School.
Pat and Sylvia are both working on their next chapter. Pat is working on a book and both are working on launching a new HealthCare platform.
Junetta Everett
Junetta Everett is a 1979 Wichita State University (WSU) graduate and its first African American Registered Dental Hygienist graduate. She joined Delta Dental of Kansas (DDKS) in 1987 serving as the Vice President of Professional Relations for 27 years. Recently retired after 33 years, Everett was responsible for the statewide and national relationships, recruitment, credentialing and overall support of the dental network. She is incredibly involved in the community and serves on several boards including the Kansas Health Foundation, Wesley Hospital, Equity Bank, WSU Foundation and National Advisory Council. In 2020 she served as the first person of color and 6th female to Chair the Wichita Regional Chamber of Commerce Board of Directors.
Junetta's passion is intentional inclusion has been honored with numerous awards including the WSU Distinguished Alumni Recognition Award, WBJ Leaders in Diversity, Women Who Lead and Women in Business awards, and the RSCK 2020 Citizen of the year award. In 2020 she was inducted into The Kansas African American Museum Trailblazer's Hall of Fame.
Junetta continues to support other community programs in action and deed. She strives to help inspire young professionals and leaders to success through her community volunteerism and by sharing her experiences. She believes that anyone can be a leader, no matter the age or the stage, you just need a vision and a desire. In 2021, she supported her alma mater by contributing to the "Career Closet" for students who may need a jumpstart on their professional career wardrobe, something she didn't have.
Junetta, a native of Texas, has been married for 39 years to Victor Everett, who is a retired State Farm Agent. They are the proud parents of five sons and 8 ½ grandchildren.
Ben Hutton
Ben Hutton is the Chief Executive Officer of Hutton. It's true that Hutton, the company, is important to Ben. But Hutton, the family, and Hutton in the community, and Hutton, the legacy – those are the concentric circles of Ben's life that contribute to true and lasting significance.
Ben values lifelong learning. Curiosity drives his decisions about how to spend his time and with whom he spends it, a drive he's felt since childhood. While he had to wait until he was 12 years old to start officially working at his dad's company, then called Hutton Construction, Ben was eager to learn about construction and leadership from his dad as soon as he could swing a hammer. He received his Bachelor of Science from Kansas State University in Construction Science and a Master of Business Administration from Friends University. Among the many continuing education opportunities Ben has pursued, he is currently enrolled in the Harvard Business School Owner/President Management Program, which he will complete in 2022.
Ben believes an interconnected and engaged community is the beating heart of our cities, states and our country. Because of this, he seeks to both be a difference-maker and empower others to prioritize service. Presently, Ben is engaged in multiple community leadership roles including Chair of the Wichita Regional Chamber of Commerce, Chair of Kansas Big Brothers Big Sisters, and is actively involved with Lead Wichita and the Global Leadership Summit. In the past, that list has included Maize Education Foundation, Youth Entrepreneurs, Kansas Association of General Contractors and many more. Ben is an Engineering News Record Top 20 Under 40 awardee and a 2020 Wichita Executive of the Year.
His fuel for being an impact multiplier comes from Ben's family. Wife Erin is a true partner to Ben in learning, difference-making and, most crucially, in raising their three children, Wesley, Bethany and Shepherd. While the Huttons proudly call Wichita, Kansas, their home, they are avid travelers. Ben and Erin consider their greatest legacy to be imbuing their children (and their children, and their children) with faith, values, optimism and unquenchable curiosity.
That brings us back to Ben's role as CEO of Hutton. The core values Ben endeavors to live out every day are the same values with which he leads Hutton. When he took over leadership of the company from his dad, Mark Hutton, in 2010, Ben began a journey to evolve Hutton into more than a construction company. And while he has already succeeded in doing so – Hutton is now a leading commercial and industrial architecture, construction and facility services firm that includes a strategic planning company-within-the-company called Sevenfold – Ben is always searching the horizon for more. More ways to be a multiplier and empower everyone at Hutton to be multipliers. More ways to tie Hutton's success to the success of the region it serves. In short, more ways to fulfill Hutton's stated purpose, to build life into team members' dreams, clients' visions and community's future.
Jim Lee
Jim Lee has always had a passion for aviation. A native Wichitian, Jim embodies the entrepreneurial spirit the Air Capital of the World is known for, from his early days at Cessna to his family's locally-owned aircraft parts distribution company, Lee Products.
Setting out on his own, Jim began his ambitious journey by founding Lee Aerospace in 1989. Initially a window manufacturer for Boeing, Jim and his team quickly grew Lee Aerospace into other facets of aviation. More than 30 years later, Lee Aerospace has advanced into composites and aerostructures and has a team to repair, inspect, and install aircraft windshields and windows worldwide. This success has awarded Jim the opportunity to pursue other interests and showcase his philanthropic side.
A longtime supporter of Junior Achievement of Kansas, Jim has a passion for helping young adults find their voice in the world. In times like these, supporting local organizations is more important than ever, and Jim's enthusiasm for Wichita's nonprofits is remarkable. Jim and Lee Aerospace support a variety of local nonprofits, including Junior Achievement of Kansas, Kansas Big Brothers Big Sisters, Wichita Children's Home, Starkey, Rainbows United, the American Heart Association, Giving the Basics, and Victory in the Valley. Without support from individuals and businesses like Jim and Lee Aerospace, the continuous efforts to improve the lives of local children and their families would be unattainable.
Jim is also passionate about flying and is a multi-engine, instrument-rated pilot with over 5,800 hours. When he's not flying, he can be found spending time with his family or working on his ranch in the beautiful Flint Hills.