Junior Achievement of Kansas Receives $3,857 from Simmons Bank to Support Programs
Author: Ashley Charest
Community Involvement
Published: Wednesday, 30 Jun 2021
---
Sharing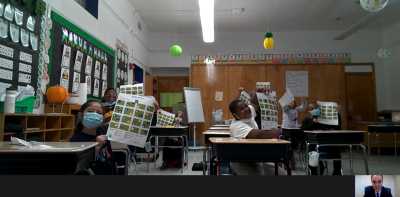 Image caption: Wichita area students receive JA programming through Simmons Bank grant.
Local JA One of Seven JA Organizations in the Country to Receive Funds to Deliver Financial Literacy Programs
Topeka, Kansas – Junior Achievement of Kansas announced today that it has received a grant of $3,857 from Simmons Bank to deliver financial literacy programs to local schools during the spring of 2021. This is the third year Simmons Bank has partnered with Junior Achievement nationally on this effort. JA of Kansas is one of seven Junior Achievement organizations across the country to partner with Simmons Bank on this intiative.
The seven participating cities are:
Dallas, TX
Kansas City, MO
Fayetteville, AR
Nashville, TN
Oklahoma City, OK
St. Louis, MO
Wichita, KS
"Our research shows that students are eager to learn more about how to work with money, but they often don't know who or where to turn for help," said Marci Werne, Wichita District Director, JA of Kansas. "We greatly appreciate Simmons Bank's support in delivering proven programs on financial literacy to students in our community."
About Simmons Bank
Simmons Bank is an Arkansas state-chartered bank that began in 1903. Through the decades, Simmons has developed a full suite of financial products and services designed to meet the needs of individual consumers and business customers alike. Simmons has grown steadily and today operates more than 200 branch locations throughout Arkansas, Kansas, Missouri, Oklahoma, Tennessee and Texas. Simmons is the subsidiary bank for Simmons First National Corporation (NASDAQ: SFNC), a publicly traded bank holding company headquartered in Pine Bluff, Arkansas, with total consolidated assets of $22.3 billion as of Dec. 3, 2020. For more information, visit https://simmonsbank.com/.
About Junior Achievement of Kansas
Junior Achievement (JA) of Kansas inspires and prepares young people with the skills they need to succeed in a global economy. Collaborating with the business and educational community, JA of Kansas provides relevant, hands-on experiences that give students knowledge and skills based on the three pillars of financial literacy, work readiness and entrepreneurship. JA of Kansas serves over 28,000 students statewide. To learn more about JA of Kansas, visit www.kansasja.org or follow us on Facebook, Twitter, LinkedIn and Instagram.