JA WORLDWIDE Ranks in the Top 100 - and the #1 Nonprofit - on Fast Company's Annual List of the 100 Best Workplaces for Innovators in the World
Author: Ashley Charest
Corporate Responsibility
Published: Tuesday, 02 Aug 2022
---
Sharing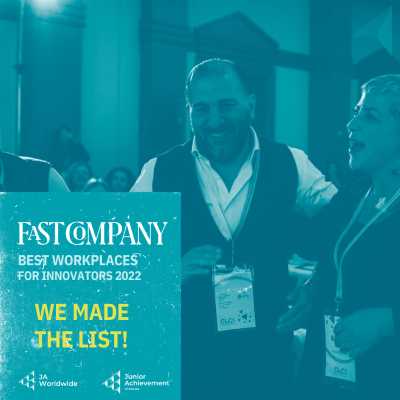 Image caption: Fast Company Best Workplaces
Fast Company today announced its fourth annual Best Workplaces for Innovators list, honoring organizations and businesses that demonstrate a steadfast commitment to encouraging innovation at all levels. JA Worldwide enters the top-100 list for the first time, earning the #1 spot for nonprofits.
Developed in collaboration with Accenture, the 2022 Best Workplaces for Innovators ranks 100 winners from a variety of industries, including computer science, biotech, consumer packaged goods, nonprofit, education, financial services, cybersecurity, engineering, diversity, sustainability, B2B, and consumer products and services. Fast Company editors and Accenture researchers worked together to score nearly 1,500 applications, and a panel of eight eminent judges reviewed and endorsed the top 100 organizations. The 2022 awards feature workplaces from around the world.
According to Asheesh Advani, CEO of JA Worldwide, "the JA network of teams has built a workplace culture that embraces innovation, digital transformation, and generous sharing of resources and talent. Throughout the world, we've collaborated on a number of projects, including JA Labs, JA Worldwide Fellows, Youth Voices, and so much more."
"This year's list of the Best Workplaces for Innovators recognizes organizations that have demonstrated a deep commitment to cultivating creativity across the board," says Brendan Vaughan, editor-in-chief of Fast Company. "In the face of powerful headwinds, these leaders and teams continue to spur innovation."
To see the complete list, go to: https://www.fastcompany.com/best-workplaces-for-innovators/list
Fast Company's Best Workplaces for Innovators issue (September 2022) is available online now, and the print issue will be on newsstands beginning August 16, 2022. Join the Best Workplaces for Innovators conversation using #FCBestWorkplaces.
About Junior Achievement of Kansas
Junior Achievement (JA) of Kansas inspires and prepares young people with the skills they need to succeed in a global economy. Collaborating with the business and educational community, JA of Kansas provides relevant, hands-on experiences that give students knowledge and skills based on the three pillars of financial literacy, work readiness and entrepreneurship. JA of Kansas serves over 28,000 students statewide. To learn more about JA of Kansas, visit www.kansasja.org or follow us on Facebook, Twitter, LinkedIn and Instagram.
About JA Worldwide
As one of the world's largest and most-impactful youth-serving NGOs, JA Worldwide delivers hands on, immersive learning in work readiness, financial health, entrepreneurship, sustainability, STEM, economics, citizenship, ethics, and more. Reaching more than 12 million young people each year through nearly half a million teachers and business volunteers, JA Worldwide is one of few organizations with the scale, experience, and passion to build a brighter future for the next generation of innovators, entrepreneurs, and leaders. Visit us at jaworldwide.org.
About Fast Company
Fast Company is the only media brand fully dedicated to the vital intersection of business, innovation, and design, engaging the most influential leaders, companies, and thinkers on the future of business. Headquartered in New York City, Fast Company is published by Mansueto Ventures LLC, along with our sister publication Inc., and can be found online at fastcompany.com.
About Accenture
Accenture is a global professional services company with leading capabilities in digital, cloud and security. Combining unmatched experience and specialized skills across more than 40 industries, we offer Strategy and Consulting, Technology and Operations services and Accenture Song — all powered by the world's largest network of Advanced Technology and Intelligent Operations centers. Our 710,000 people deliver on the promise of technology and human ingenuity every day, serving clients in more than 120 countries. We embrace the power of change to create value and shared success for our clients, people, shareholders, partners, and communities. Visit us at accenture.com.