Gene & Yolanda Camarena :: Wichita Business Hall of Fame Laureate 2021
Author: Ashley Charest
Community Involvement
Published: Tuesday, 23 Feb 2021
---
Sharing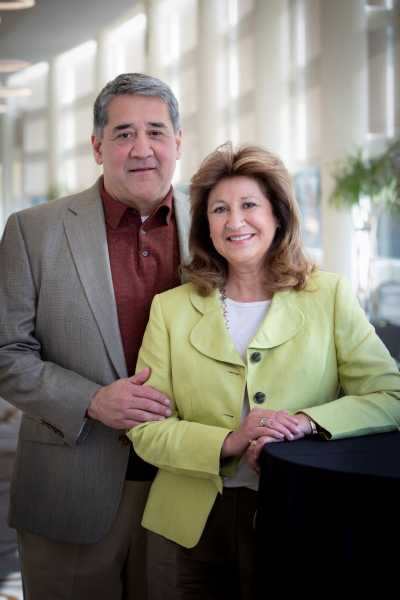 Gene Camarena is President/CEO of La Raza Pizza, Inc. His business interests include Pizza Hut restaurants, Marriott Hotels, banking, and real estate development. In the past 10 years these enterprises have been recognized as being in the top 150 largest Hispanic owned businesses in America. Gene has served 3 terms as the Chairman of the Board of Directors of the International Pizza Hut Franchise Association (IPHFHA), which represents the interest of the more than 6,000 Pizza Hut franchise locations in the U.S. and was recently inducted into the IPHFHA Hall of Fame. He currently serves as Chairman of the Board of Directors for the Hispanic Scholarship Fund which is the largest philanthropic organization in the country for providing scholarships to Hispanic college and graduate students. The Hispanic Scholarship Fund provides in excess of $30 million in scholarships annually.
Gene also serves on the Holy Savior Catholic Church Finance Committee and The Board of Directors for Big Brothers Big Sisters of Kansas.
Gene was born and raised in Salina, KS. He received his Bachelor of Science degree in Accounting and Business Administration from the University of Kansas and a Master's degree in Business Administration from Harvard University. He was awarded an honorary degree of Doctor of Humane Letter from Newman University in 2015.
Yolanda Camarena's career background has been in Higher Education Administration. She served as Director of Admissions for Newman University from 1979-1983. In 1983, she took a position as Associate Director of Graduate Programs at the Kennedy School of Government at Harvard University. During her time at Harvard she was a founding member of the development of the Journal of Hispanic Policy. The Journal continues to be a formidable source for Hispanic policy research at the Kennedy School of Government. Upon her return to Wichita, she served as the Regional Coordinator for the LULAC Educational Service Center. She currently serves as the President of the Board of the Kansas Hispanic Education and Development Foundation, Chair of the Schools and Scholarship Committee of Harvard College, serves on the Grants Committee and Board of the Wichita Community Foundation and on the Board of League 42.

Ms. Camarena holds a Bachelors degree in Education from WSU, a Masters in Public Administration in Education Policy from the Kennedy School of Government, Harvard University and was awarded an honorary degree of Doctor of Humane Letter from Newman University in 2015. She has two daughters and her husband is Gene Camarena. She believes that education is one of the most important aspects of success for a person. She is committed to ensure that our Hispanic youth have every opportunity to pursue a post-secondary education and wants to help make a difference in their lives.