Don Sherman :: Wichita Business Hall of Fame Laureate 2021
Author: Ashley Charest
Community Involvement
Published: Tuesday, 23 Feb 2021
---
Sharing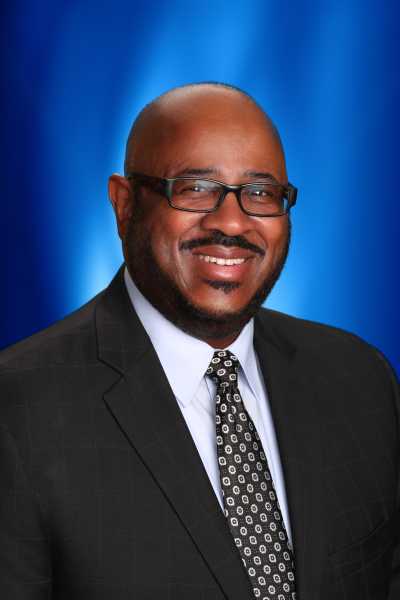 Image caption: Don Sherman
Don Sherman is Executive, Community Affairs, for Evergy, an investor owned utility that serves approximately 1.6 million customers in Kansas and Missouri. Evergy, f/k/a Kansas City Power & Light and Westar Energy, has nearly 5,000 employees.
Don was born in Wichita, Kansas, and his parents were entrepreneurs. His late father, Robert Sherman, started a small lawn mowing business that grew to be a larger-than-expected enterprise. Don's late mother, Luetta Mackey Sherman, started Midwest Barber College, the first African American Barber College in Wichita, located at 9th & Cleveland, across the street from the Historic Dunbar Theater. Don says "I apparently caught the entrepreneurial bug from my parents, and I didn't even know it was happening. They taught me how to Super-Serve customers and give back to the community."
Don attended Minneha Elementary, Wilbur Junior High, and Wichita Northwest High School. Don has a Bachelor's in Business Administration from Baker University, an Associates in Administration of Justice from Butler Community College, and a Computer Programming Degree from Bryan Institute.
In 1992, Don started Mid-America Intelligence Services, a private investigation and background screening firm. In 1994, Don sold his share of the company to his partner. Don found his niche and created FORCE-1 Security Corporation, a full-service corporate security firm in Wichita, which later expanded to locations in Topeka and Kansas City. FORCE-1 enjoyed a controlled growth trajectory and quickly became the second largest security company in Wichita. In 1996, FORCE-1 acquired Sentinel Patrol to become the largest security company in Wichita. Then in 1999, Pinkerton, the largest security company in the world, purchased FORCE-1.
When Don was a senior in high school, he noticed there were no radio stations for African Americans, so that became his long-range goal and dream. On July 1, 2000, Don formed Sherman Broadcast Group which created KSJM-FM HOT 107.9 JAMZ, an R&B station in Wichita; and also purchased KSOK-FM Country 95.9 in Winfield, and KSOK-AM 1240, an Oldies format in Arkansas City. Sherman Broadcast Group was the first and only African American owned commercial radio station owner in Wichita, and in the state of Kansas. In 2004, Sherman Broadcast Group and Kansas City's Carter Broadcast Group partnered to create Carter-Sherman Broadcast Group. Don was President of Carter-Sherman Broadcast Group until 2007. Additionally, Don was a partner in Urban Nyghts, a popular Jazz and R&B nightclub in Northeast Wichita from 2004-2007.
In 2007, Don started his career at Westar Energy as Manager, Customer & Community Relations. It was the perfect segue into the corporate arena. Don says, "As an entrepreneur, it is all about building relationships and trust." Those transferable skills served Don well in his new role at Westar, as he directed a specialized team of business managers that serve the energy and economic development needs of Westar's Top 1000 Energy users. In 2013, Westar CEO Mark Ruelle promoted Don to Vice President, Community Relations & Strategic Partnerships. In Don's current role with Evergy, he leads a high-performing team with accountability that includes Charitable Giving, Community Relations; Strategic Partnerships; Local Government Affairs; Employee Political Action Committee; and coming to Wichita in the near future, Wichita Connect, where Evergy customers can walk in and experience in-person options such as account support, energy-efficiency demonstrations, smart transportation information, children's learning and self-service kiosks. Don says, "I have a dream job with a great company where I get to Super-Serve the community that I love. Win-Win-Win!"
Don genuinely enjoys giving back to the communities he is privileged to serve. His current leadership includes being on the boards of Wichita Downtown Development Corporation (Past Chair), Visit Wichita, Wichita Chamber of Commerce, Sunflower Foundation (Kansas Attorney General Appointment) and the Wichita Community Foundation. Don's prior service includes Greater Wichita Partnership, Wichita Metropolitan Area Planning Commission, Leadership Wichita, Exploration Place, Sedgwick County Zoo, American Red Cross (Past Chair), Wichita Festivals, The Kansas African American Museum, Boy Scouts of America, and Junior Achievement of Kansas.
Don's Work-Life Balance? Radio Broadcasting! Don founded Intrepid Companies in 2007 to consult and operate radio stations. He created the #3 ranked R&B internet station. He developed a transformational programming delivery process and conducted the R&D on KXXN-FM K96 JAMZ in Wichita Falls, Texas. From 2015-2017, he was requested by Envision in Wichita to help them navigate their purchase and operation of a commercial FM radio station: KKGQ-FM Q92 The Beat. In addition to being responsible for the operations of Q92, Don trained the Blind & Visually Impaired (BVI) how to be radio personalities, a/k/a DJs. Don is awaiting regulatory approval from the Federal Communications Commission (FCC) to purchase radio station KDVB-FM and move it to serve the Topeka/Lawrence radio markets. Once approved, like he did with Wichita in 2000, KDVB-FM will be the first African American owned radio station to serve Topeka/Lawrence. In addition, KDVB-FM will be the only Kansas owned commercial radio station serving Topeka/Lawrence. Furthermore, Don is awaiting approval from SiriusXM to broadcast one of his trademarked radio formats on a SiriusXM satellite radio channel. Yes, Don truly enjoys radio broadcasting as his Work-Life Balance.
Don and his wife Denise have been married 24 years. Denise is the Executive Director of The Kansas African American Museum. They have an adult daughter, Bethany, who resides in the DFW Metroplex and is an Onboarding Support Manager for Zapier. Bethany's husband, Everett Bledsoe, is an IT Manager for First Guaranty Mortgage Corporation. Don and Denise reside in Andover, Kansas.