CAPITOL FEDERAL TAKES HOME TOP PRIZE AT THIRD ANNUAL JA GOLF CLASSIC
Author: Ashley Charest
Community Involvement
Published: Tuesday, 21 Jul 2020
---
Sharing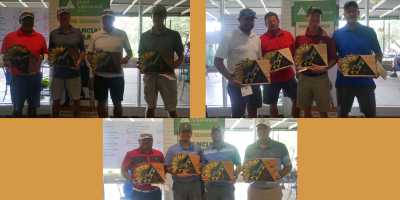 The third annual JA Golf Classic, presented by Capitol Federal, was held Monday, July 20 at the Wichita Country Club. Over 60 golfers came out for the second largest annual fundraiser for the Wichita district of Junior Achievement of Kansas. The event raised $30,000 for the Wichita district.
Throughout the course, golfers were treated to unparalleled views and followed up with a lunch and awards reception, as well as course competition holes including longest putt and longest drive.
Third place winners, with a score of 59, were Dan Dejmal, Jimmy Martinez, Isaac Perez and Josh Newman of Evergy. Scoring 58 and winning second place were Joe Strunk, Bob Smith, Jared McKay and Jimmy Allen of Capitol Federal. The top prize was won by Patrick Myer, Aaron Myer, Joe Champion and Chris Durham of Capitol Federal with a score of 56. Students from Chaparral High School made this year's trophies.
The competition hole winners were:
#3 Longest Putt – Josh Herman
#14 Longest Putt – Larry Gurney
#8 Closest to Hole – Bob Smith
#11 Closest to Hole – Larry Schlecht
#17 Closest to Hole – Jared McKay
#4 Longest Drive – Isaac Perez
The tournament concluded with a 19th Hole Reception. JA of Kansas Wichita Advisory Board President Chris Purdum, Commerce Bank, thanked all of the sponsors and golf attendees, while also explaining why Junior Achievement programming on financial literacy, workforce readiness skills and entrepreneurship continue to be vital information provided to local K-12th grade Wichita area students. Presenting sponsor Capitol Federal's Micha Mohr spoke toward the partnership between JA and Capitol Federal, and Marci Werne, JA Wichita District Director, shared information regarding JA's programs. Each year, the Wichita district serves over 10,000 students through over 450 classes.
For the third consecutive year, Capitol Federal was the presenting sponsor of the tournament. Additional sponsors included AgVantis, American Family Insurance – Kerri Mauck Agency, American State Bank, The Carnahan Group, Ken Clay, Commerce Bank, Cox Communications, Evergy, Flamingo Ink, Max Harris, Intrust Bank, Kanza Bank, Lee Aerospace, Meritrust Credit Union, SJCF Architecture, SPK Grocery, David Urban, Wichita Country Club and the WSU Center for Entrepreneurship.
About Junior Achievement of Kansas
Junior Achievement (JA) of Kansas inspires and prepares young people with the skills they need to succeed in a global economy. Collaborating with the business and educational community, JA of Kansas provides relevant, hands-on experiences that give students knowledge and skills based on the three pillars of financial literacy, work readiness, and entrepreneurship. JA of Kansas serves nearly 28,000 children statewide. To learn more about JA of Kansas, visit www.kansasja.org or follow us on Facebook, Twitter, LinkedIn, and Instagram.