2020 Lawrence Business Hall of Fame Laureate Announcement
Author: Debbie Harman
Community Involvement
Published: Tuesday, 19 May 2020
---
Sharing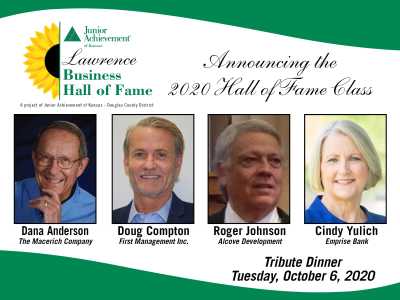 Lawrence, KS – The 2020 Lawrence Business Hall of Fame laureates were announced at a press event on Tuesday May 19 on KLWN 1320 Hank Booth "According to the Record" morning radio show.
The 2020 class includes: Dana Anderson, The Macerich Company; Doug Compton, First Management Inc.; Roger Johnson, Alcove Development; Cindy Yulich, Emprise Bank.
The 2020 Lawrence Business Hall of Fame will be on Tuesday, October 6, 2020, at the DoubleTree by Hilton (200 McDonald Drive; Lawrence, KS). To purchase tickets or become a sponsor, contact Debbie Harman at 785-841-8245 / 785-331-7380 or debbie@kansasja.org
About Junior Achievement of Kansas
Junior Achievement (JA) of Kansas inspires and prepares young people with the skills they need to succeed in a global economy. Collaborating with the business and the educational community, JA of Kansas provides relevant, hands-on experiences that give students knowledge and skills based on the three pillars of financial literacy, work readiness, and entrepreneurship. JA of Kansas serves nearly 28,000 children statewide including more than 6,000 children in the Lawrence area. To learn more about JA of Kansas, visit www.kansasja.org or follow us on Facebook, Twitter, LinkedIn, and Instagram.
2020 Lawrence Business Hall of Fame Laureate Biographies
Dana Anderson, The Macerich Company
dana.anderson@macerich.com
(310) 999-4326
Drafted in the winter of 1956 six hours short of earning his degree in marketing, Anderson left KU and an executive training program with Kansas Power and Light to fulfill his military obligation. Earning just $72 a month and "room and board the hard way," he still managed to send $5 for alumni association dues because of the importance he placed on his relationship with KU.
Anderson, upon returning from military service, completed the remaining classes he needed to receive his degree. He rejoined KPL in 1959, working with builders on all-electric homes before saving "a modest amount of money" and going into business with a partner to develop subdivisions. Soon after, the air force base removed a large part of its operations from Topeka, resulting in a glut of houses and "a very painful lesson about undercapitalization and over-aggression", recalls Anderson. Resilient and resolute, Dana Anderson knows a lot about reinvention and recovering from near bankruptcy early in his career. Mace Siegel and Richard Cohen, successful strip mall developers, came to Topeka in 1965 and Anderson brokered a deal to create a stand-alone discount store that survives still, most recently as Gordman's. Anderson joined Macerich in 1966, ultimately helping build 17 centers throughout the Midwest and in Annapolis, MD.
Dana K. Anderson is one of the founders and Vice-Chairman of the Board Emeritus of Macerich. Mr. Anderson has been with Macerich since 1966 and has served as executive vice-president and chief operating officer. The company's first mall was White Lakes in Topeka, Kansas. He has over 57 years of experience in the real estate industry. Macerich is a NYSE Real Estate Investment Trust with some 47 shopping centers in 15 states.
Dana and his wife Sue will celebrate their 58th wedding anniversary on December 29, 2020. They have four children and eight grandchildren. In 2003, Dana was honored as Father of the Year in Los Angeles by the National Father's Day Council. He previously served on Campaign Kansas, the James Naismith Society, and KU First fundraising committees for the university, and is a long-time member of the Williams Educations Fund. He has twice served on the KU Athletic Board. He is a member of the Business School Board of Advisors.
On May 18, 2001, he received the Distinguished Alumni Award from KU School of Business. He was a member of the Steering Committee for Kansas First Capital Campaign, which raised over $550 million to provide funds for all aspects of Kansas University.
KU Alumni Association honored Mr. Anderson with the Fred Ellsworth Medallion in 1998 for his life-long numerous contributions to the university. With his wife, Sue, and son Justin, Mr. Anderson established the Anderson Family Business Opportunity Fund and has made over 150 gifts to various KU projects, including the Spencer Research Library Kansas Collection, Wagnon Student Center, The Anderson Family Strength and Conditioning Center, the Anderson Family Football Complex, Marching Band, Women's Rowing and more recently, the new School of Business Building.
Dana is one of the Founders of the Salina, Kansas Community Foundation and has served on the Corpus Christi Catholic Church and School Capital Campaign in Lawrence. In 2017 the Anderson's received the Dorothy Flannery Honor for their leadership as honorary chairs and partnership in the building and the growth of the Corpus Christi School. Dana serves on the Futures Team of the parish to help direct the strategic planning of the parish and Sue serves as a volunteer in the parish and the school.
He was a speaker at KU's Business School mid-year graduation in 2001 and gave the commencement address at William Woods University in 2007, where he was awarded an honorary degree, Doctor of Letters. He has served as a sponsor, mentor and advisor to numerous young people in the early stages of their lives and careers and his charitable efforts have, aside from Kansas University, to a large extent been directed toward specific individuals as opposed to institutional charities.
Dana and Sue Anderson were 2018 recipients of the Elizabeth Watkins Community Caring Award for their positive influence and generosity to Lawrence Memorial Hospital. They previously supported the hospital's capital campaign for the fourth- floor renovation and the new LMH West Project. The Andersons are now heading a $3 million capital campaign for a second Cardiac Catheterization Lab and the purchase of new Robotics equipment.
Douglas J. Compton, First Management Inc.
dougcompton@firstmanagementinc.com
785-841-8476
EDUCATION
The University of Kansas, Lawrence, Kansas 1978-1982. Degree: B.G.S.
Wellington High School, Wellington, Kansas Graduated 1978
WORK EXPERIENCE
1991 – Present First Management Inc., Owner
2005 – Present First Construction, LLC, Owner
Doug Compton is the owner/operator of First Management, Inc., a property management/commercial real estate firm based in Lawrence, Kansas and First Construction LLC, a general contractor. FMI and FC have been essential in the real estate development for both third-parties and Doug personally. They build, invest, rent and own commercial real estate, residential student housing and apartments throughout the Midwest and 12 other states. In recent years, FMI and FC have become one of the major players in the Northeast Kansas real estate market.
Prior to devoting his time primarily to real estate and growing his construction and property management businesses, in the late 1980's Doug started pursuing a significant farming interest in Lawrence Kansas and surrounding areas that now include approximately 1700 acres. Doug also owns land to be used for future development. Doug has added to his personal portfolio by being an active developer with significant multi-family and commercial interests which also include projects such as medical buildings, retail, hotels, restaurants and most recently the purchase of the Lawrence KS airport. Many of the commercial properties are located in downtown Lawrence.
Doug has expanded into the banking industry. He is the principal organizer of First Financial Bancshares, Inc. and Great American Bank with locations in Lawrence, Desoto and Kansas City. Since 2005, Doug has served as CEO and as a director for First Financial Bancshares, Inc. He currently serves as Chairman of the Board and Director for Great American Bank as well as in addition to various committees. Doug was integral in the contract purchase negotiations, identifying Les Dreiling as the executive officer for the Great American Bank and locating the opportunity to acquire this bank. Doug also led the effort to serve principal investors and shareholders for First Financial Bancshares, Inc.
Doug's regional and national experience in the real estate industry provided valuable insight and knowledge in the real estate industry to these entities.
In 2015 Doug was invited to sit on the Board of Trustee's at Texas Wesleyan University in Fort Worth TX and is very active in that roll. Doug was awarded the 2019 Honorary Alumnus at the Texas Wesleyan Medal Dinner for his accomplishments and contributions to the University.
Doug, along with a few investors, have ventures as a landlord/developer for the cannabis industry in Pueblo, Colorado. Doug's business experience and entrepreneurial spirit have helped him achieve success in this new industry.
Doug is a lifetime member of the great University of Kansas Alumni Association.
Doug is married to Lesley Elliott Compton. They have a combined family of six children: Douglas Jr. (28), Chase (25), Lili (20), Brooke (8), Beau (2), and Banks (1).
Roger Johnson, Alcove Development
rjohnson@alcoveproperties.com
(785) 423-9100
Roger grew up in Lawrence, KS. He attended India Grade School, Lawrence High School and then Washburn University. While a senior at LHS, he was drafted and spent two years in the Naval Air.
After returning home, he entered Washburn University and began investing in rental properties and managing real estate for other people.
In 1981, Roger started RD Johnson Excavating and developed and ran his business for 35 years. He sold RD Johnson Excavating in August 2016.
Following the sale of RD Johnson Excavating, Roger started Alcove Development with his two partners, Dustin Baker and Jeremiah Johnson.
Roger is married to his wife, Debby. They have a son, Jeremiah Johnson (Michaelah) and two stepchildren, Grant Catloth (Anna) and Olivia Gilbert (Chris).
Roger and his wife live on a ranch in southwest Douglas County.
He has one hobby – work and real life Monopoly.
Cindy Yulich, Emprise Bank
yulich@emprisebank.com
(785) 838-2003
Cindy and her family have been members of the Lawrence Community since 1991 when Cindy joined Emprise Bank to open their Lawrence location. Her husband, Mitch, is employed with Westlake Ace Hardware. They have two grown sons, Brett and Jordan and a daughter-in-law, Kristi.
Cindy grew up in Kansas City, KS. and graduating from Turner High School in 1977. She received an Associates Degree from Kansas City, Kansas Community College in 1979 and her Bachelors Degree in Business Administration/Minor in Social Science from Emporia State University in 1981. She graduated from the Graduate School of Banking at the University of Colorado in 1998.
Cindy has been with Emprise Bank for 29 years beginning as an assistant vice president and became Market President in 2008. She has served on the Bank's Board of Directors and the bank's Asset/Liability Management Committee in addition to Loan Committees. Prior to joining Emprise, Cindy was employed for ten years at Security Bank of Kansas City.
Cindy is serving or has served on the following boards and committees:
Lawrence Memorial Hospital Board of Trustees (2012-present) Currently Chair
Peaslee Technical Training Center (Founding Board Member 2014-present/Treasurer)
Economic Development Corporation (Board 2005 to present/Chair2014-15)
Lawrence Chamber of Commerce Board of Directors (2005-2012) Chair/2011
USD497 Board of Education (2004-2008)
LEAP/Business Education Partnership Board of Directors (since 1995-2004)
Public Incentive Review Committee (City of Lawrence) 2007-2015
Past Board member and Treasurer of the United Way of Douglas County
Member Quail Run Site Council (1994 to 1997; 2001 to 2004)
Member East Heights Site Council (2001-2004)
American Cancer Society Board (1992-3)
Treasurer Boy Scout Troop 53 (1999-2012)
Graduate of Leadership Lawrence, Class of 1995
Member-Rotary
Cindy received the Lawrence Public Schools "Outstanding Citizen" Award in 2002 and the Wally Galuzzi Chamber Volunteer of the Year award in 2013. She received the Athena Award from the Lawrence Chamber of Commerce in 2016.