Topeka Mini-Golf Tournament and Live Trivia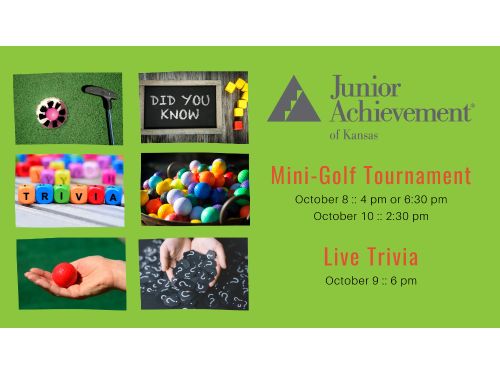 Event Completed!

When: Friday, October 08, 2021 - Sunday, October 10, 2021
Where: Sports Center
Time: 12:00 AM CT
Gather up your team of 4 and slay at the unique mini-golf tournament or bring your brainiacs to smash live trivia. The mini-golf tournament will be set up just like a full golf classic with fun prize holes to play in addition to the 36 holes of miniature and goony golf. Live Trivia pits your team against the others in a battle of the brains 6-round trivia play. At each event, we will also have raffle prizes and 50/50 auctions to participate in.
Sponsors
Autumn
Fall
Leaf
Become a Sponsor!
Sponsorships for these events are critical for Junior Achievement to continue providing life-changing programs to students in our community. These programs are delivered at no cost to students. You can make a difference in the lives of these students by participating in this world-class event!
Contact us
to get more information on how to sponsor a JA Event!