JA In A Day
A complete day of JA Education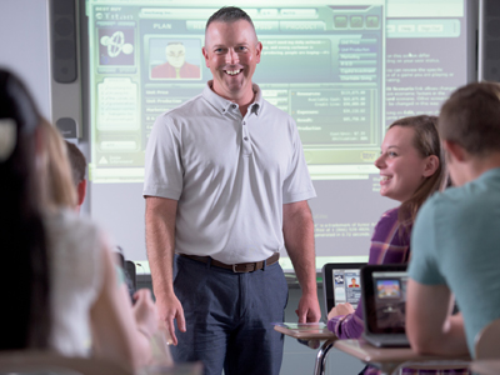 What is JA in a Day?
JA in a Day is a high impact way to deliver JA's lessons for a particular grade level all on the same day. Some schools choose to have every grade receive JA programming on the same day. "JA in a Day" is a unique opportunity as it offers volunteers a great opportunity to get involved with Junior Achievement without juggling schedule conflicts or long-term commitments.
What Do Volunteers Do?
The volunteers participate in a training session (on-site at your location or at our office) prior to the event where they will obtain their classroom materials and teacher assignments. On the day of the event, volunteers conduct the lessons in the assigned classrooms.
What Is the Role of the Teacher?
During the event, teachers are present in the classroom at all times to partner with the volunteers, help maintain discipline and answer any of the volunteer's questions.
What Is JA Staff's Role?
JA staff plans and coordinates the day and is at the school to help if needed.
What Is My Time Commitment?
Usually 4.5 hours. Volunteers arrive at the school around 8:30-9:00 a.m. and begin lessons. Typically, volunteers are done between 1 and 2 p.m.
Related Events
EdVenture Virtual Career Fair
When: Thursday, 06 May 2021
Where: https://sites.google.com/usd259.net/careerday2021?scrlybrkr=ef92d212
Time: 9:00 AM CST
Junior Achievement and Wichita Public Schools partnered bring Wichita and Kansas students a virtual career fair/symposium to Pre-K through 12th grade students along with college students and our community members.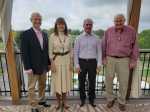 Lawrence Business Hall of Fame 2022
When: Thursday, 24 Feb 2022
Where: DoubleTree by Hilton
Time: 5:30 PM CST
The 2022 Lawrence Business Hall of Fame Tribute Dinner celebrating Lawrence business leaders is being held on Thursday, February 24, 2022 at the DoubleTree by Hilton (Regency Ballroom). The reception will begin at 5:30 pm and the tribute dinner and awards begins at 6:15 pm.

The 2022 class includes: Marilyn Bittenbender, Heck Land Company; Richard Haig, Westside 66 Inc.; Roger Scott, Scott Temperature; Gary Toebben, The Lawrence Chamber (Past President /CEO).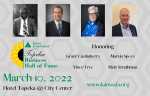 Topeka Business Hall of Fame 2022
When: Thursday, 10 Mar 2022
Where: Hotel Topeka @ City Center, Maner Conference Center, Sunflower Ballroom
Time: 5:30 PM CST
Junior Achievement of Kansas annually honors businessmen and women to inspire young people to follow in the laureates' footsteps.